It's Simple.
The chip is your pet's lifeline to you.
But only if it is registered.
Our new name says it all. BuddyID™ – The Future of Reuniting Lost Pets. The tiny chip is your buddy's identification.  And since your pet can't speak, the chip provides the key to reconnecting with you – fast – if you are separated for any reason.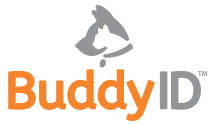 However, the chip number must be registered – connected to you in our database – to do its job. Registration is a simple thing; but it makes ALL the difference. Do it now. Get peace of mind and mark it off your list!
Our Customers and their Pets.
The reason we come to work every day!
Become Empowered!
Register the Chip.
Get all the tools you need to act fast if your pet is lost.
When Being Lost is not an Option.
Register the Chip.